Are you an aspiring manga artist or simply curious about the art of manga creation?
Tokyo, being a hub of creativity and culture, provides the perfect backdrop for you to embark on a journey of manga discovery.
We're thrilled to introduce you to the ALOHA MANGA Workshop, an exceptional opportunity to learn from professional manga artist with 25 years of manga experience.

Why Choose ALOHA MANGA Workshop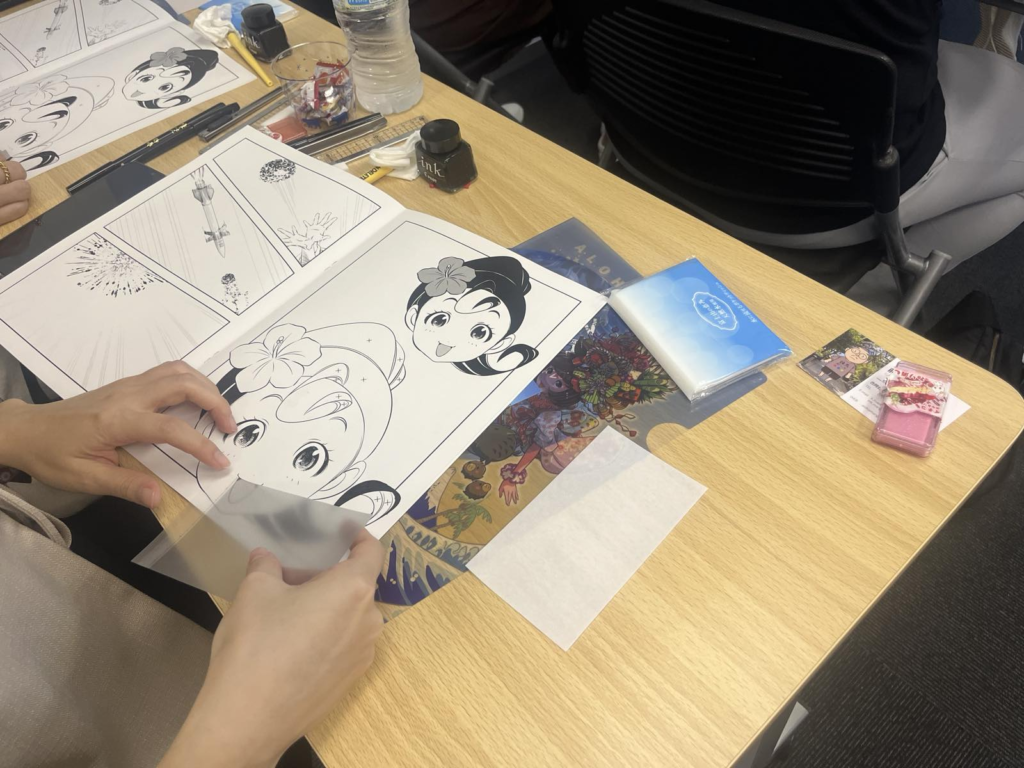 Convenient Location
Located just a 7-minute walk from Shibuya, one of Tokyo's most vibrant and iconic neighborhoods, the ALOHA MANGA Workshop is easily accessible for both locals and tourists.
Small Group Classes
With group sizes ranging from 2 to 6 participants, our workshops ensure a personalized and interactive learning experience.
Blend Learning and Tourism
While exploring Shibuya's sights and sounds, you can make the most of your visit by indulging in an authentic manga artist experience.
Learn from a Professional Manga artist
Our instructor boasts an impressive 25-year career in manga artistry. You'll gain insights into manga writing, character design, and storytelling techniques straight from the pro.
Customizable Lessons
Tailored to your preferences and goals, our lessons can be customized to focus on the specific aspects of manga creation that interest you the most.
All Skill Levels Welcome
Whether you're a complete beginner or an advanced artist, our classes are designed to cater to all levels of expertise.
For those looking to deepen their skills, we welcome students interested in ongoing lessons, allowing you to progress steadily on your manga journey.
1day lesson : Standard course
You can design your own character in the lesson.(2hours)
In this workshop, you will have the opportunity to design your very own character.
Following that, there will be a lecture on character design, after which you will try to draw your original character.
Throughout the lesson, I will offer suggestions and guidance, and you are encouraged to ask questions freely.
PRICE
| | |
| --- | --- |
| Number of participants | Price per a person |
| 1 person | 240 USD |
| 2 people | 120 USD |
| 3-6 people | 80 USD |
※Please contact us if you have more than 7 participants
1day lesson : Professional course
Character Creation, Background Creation, Layout & Panel Composition, etc.
You can choose the department you wish to enhance.(2hours)
We recommend this course for those who want to learn more specialized techniques when drawing Manga.
PRICE
| | |
| --- | --- |
| Number of participants | Price per a person |
| 1 person | 240 USD |
| 2 people | 120 USD |
| 3-6 people | 80 USD |
※Please contact us if you have more than 7 participants
Join our Manga lesson
Manga is more than just an art form; it's a way of storytelling, self-expression, and cultural exchange.
By choosing the ALOHA MANGA Workshop, you're not only learning the ropes of manga creation but also becoming a part of a vibrant and diverse community of manga enthusiasts.
How to book the lessons
Are you ready to explore the captivating world of manga right in the heart of Tokyo?
Whether you're a tourist seeking a unique experience or a local eager to dive into the world of manga, ALOHA MANGA Workshop welcomes you with open arms.
Don't miss out on this exciting opportunity!
Reserve your spot now and take your first steps towards becoming a manga artist. Your manga adventure starts here!

Join us, and let your manga dreams take flight in the bustling heart of Tokyo!
Access
〒150-0044 東京都渋谷区円山町5−5 Navi渋谷Ⅴ 3階